...please join us in the fight against Autism!
Donate: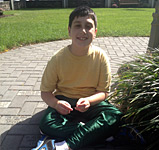 Thank you for considering the donation of an item or service for our upcoming golf outing fundraiser. All of the proceeds raised from this event will go directly to our organization. Items that are donated to this event will be used for goodie bags, raffle baskets and silent auctions. Large or small items can be combined to create wonderful prizes. Your business or service will be prominently displayed at our event and on our website.
T Off 4 Autism is a 501c3 tax exempt organization. Our EIN is 33-1151550. All donations are tax deductible to the full extent that the law allows.
Autism now affects 1 in 84 children. We are a family run volunteer organization of parents and volunteers who have children and adults with autism spectrum disorders.
T Off 4 Autism funding is used for the following purposes:
Funding research to find a cure for Autism.
Funding a wide assortment of events designed to help affected families.
Support local Long Island families affected by Autism.
Build and support a Group Home for people with Autism.
We are thankful for your support of T Off 4 Autism.
"Together we can make a difference."